Leave Donald Sterling Alone!

Donald Sterling was unknown to me until his recent headlines.
I wanted to know more about him, after I listened to a recording of him telling his girlfriend not to bring Magic Johnson to Clipper basketball games.
I did not understand this, because Magic Johnson was an outstanding basketball player. If I owned a team, I would be glad to give him a ticket.
Curiousity led me and others to propel Sterling's biography to the most requested article on Wikipedia during the week of April 27 – May 3, 2014.
A Shame for the Nations
Wikipedia taught me that Sterling is Jewish. He changed his name from Tokowitz. Every Jew should be saddened by Sterling's racism.
I was disappointed that Adam Silver, the Jewish NBA Commissioner, did not mention this during his press conference on Sterling.
Silver should have called Sterling a shande fur die goyim. This Yiddish phrase means "a shame for the nations." It is often used to describe a Jew who committed a shameful act that was observed by non-Jews, and caused more people to hate Jews.
Silver might have another public opportunity to speak to Mr. and Mrs. Sterling soon.
Clippers are in the playoffs, losing 3-2 in best-of-7 Western Conference semifinals. If Clippers win the championship, Silver will present a trophy to Donald and Rochelle Sterling.
Perennial Racist
Donald Sterling is a long-time racist. In 1986, Sterling hired Elgin Baylor to be the General Manager and Vice President of basketball operations for the Clippers. Baylor was NBA Executive of the Year in 2006.
Baylor was replaced in 2008. Sterling said:
We greatly appreciate Elgin's efforts during his time with the Clippers, and we wish him the very best
However, 74-year-old Baylor sued Sterling for racism and unlawlful termination due to age.
Baylor claimed that Sterling wanted "poor black boys from the South" playing for a white coach. Baylor dropped the racism charge and lost his case for unlawful termination.
Baylor worked for Sterling for 22 years. Baylor undoubtedly knew what Sterling was like, before he started working for the Clippers.
If Baylor had any doubts, The Housing Rights Center won a lawsuit against Sterling for allegations of housing discrimination by property owners Donald Sterling and Rochelle Sterling against African-Americans and Latinos in 2003-2005, in 2006. Sterling allegedly told employees:
black people smell and attract vermin
It is hard to believe that Baylor was unaware of Sterling's past, before he started working for him. It is also hard to believe that he worked for Sterling for 22 years, if his job was so awful.
Rewarding Racism
Today's NAACP should know all about Donald Sterling. Yet NAACP bestowed a lifetime achievement award on Sterling, months after Baylor filed his lawsuit.
Leon Jenkins, the President of the Los Angeles chapter of the NAACP, resigned after planning to present Sterling with another lifetime achievement award at the NAACP's 100th Anniversary Celebration on May 15, 2014.
Jenkins's NAACP announcement described Donald Sterling as a humanitarian who was receiving the award for "generosity, inspiration and leadership."
Who Wanted to Give Sterling an Award?
Leon Jenkins was a Judge, before he was elected President of the LA Chapter of NAACP. Sadly, Jenkins lost that job because he "sold his office and his public trust."
Currently, Jenkins is a disbarred lawyer who lacks the "moral fitness to resume the practice of law." Jenkins was disbarred in Michigan in 1994, California in 2001.
Sterling's NBA History and Fines
Sterling bought the Clippers for $12.5 million in 1982. He has been fined three times.
Sterling was fined $10,000 in 1982 for a comment about accepting a last place finish to draft Ralph Sampson. In 1984, Sterling was fined $6 million for moving the Clippers from San Diego to Los Angeles, without the NBA's permission.
Sterling received a $2.5 million fine after TMZ published the racist recording of him and his girlfriend V. Stiviano.
The Clippers are worth about $575 million today.
Clippers have won 913 games and lost 1581 since 1982.
ESPN considers Sterling the worst owner in professional sports.
Clippers Blame Racism On Stiviano
The Clippers released a statement claiming that Stiviano, who was sued by Sterling's wife in March:
told Mr. Sterling that she would "get even."
She got even by releasing their conversation.
Mrs. Sterling Blames Racism On Dementia and Money
During an interview with Barbara Walters, Sterling's estranged wife claims her husband's remarks were caused by:
the onset of dementia
Shelly Sterling said that despite her husband's extra-marital affairs, "financial arrangements" kept her from divorcing him.
Everyone Wants the Clippers

NBA banned Sterling from attending Clipper games and removed him from their roster. It is funny that there have been 1894 Tweets about Sterling's missing profile.
NBA Commissioner Adam Silver wants Sterling to sell the Clippers. I doubt this will happen because his wife Rochelle Sterling owns half of the team. Mrs. Sterling complained:
I wholly feel that I've done nothing wrong
If the NBA forces Mr. Sterling to sell his share of the team, I hope Oprah buys half of the Clippers. Oprah's spokesperson said:
Oprah Winfrey is in discussions with David Geffen and Larry Ellison to make a bid for the Los Angeles Clippers should the team become available
The Obvious Solution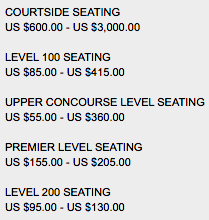 The adjacent image shows the prices for remaining tickets to watch the Los Angeles Clippers on Saturday night. People are paying Donald Sterling huge (to me) sums of cash to watch a couple of hours of basketball.
Forget about the Clippers. Several advertisers ended their relationship with the Clippers. You should too.
Stop buying Clippers merchandise. Stop watching the Clippers play: live or on TV.
Clippers have sold out 137 consecutive games. Too many "fans" will pay a small fortune, to watch them play Oklahoma City Thunder on Saturday night.
Leave Donald Sterling Alone
Donald Sterling will want to sell the team, if all the advertisers cancel and the fans stay home.
Leave Donald Sterling alone. Stop supporting the Los Angeles Clippers.