Perverts For Polanski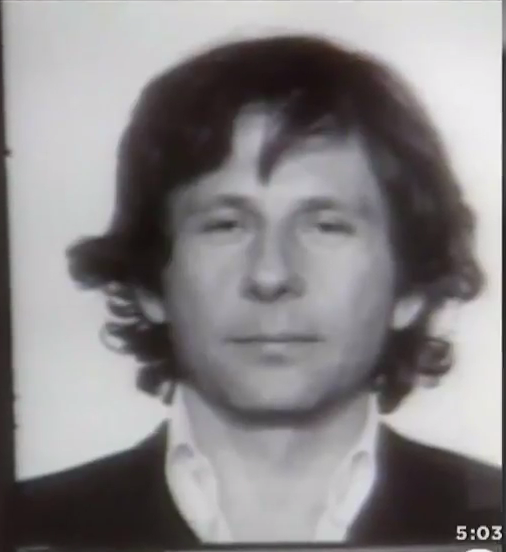 In 1977, a 44-year-old man, was arrested after he raped a 13-year-old girl. A Los Angeles Grand Jury indicted this miscreant for "rape by the use of drugs". Indictment said he:
"did willfully unlawfully and feloniously have and accomplish an act of sexual intercourse with a thirteen-year-old girl, she then and there being rendered temporarily incapable of giving legal consent to the commission of said act by the administration to her of intoxicating narcotic, anesthetic substance, controlled substance, and intoxicating liquor, to wit, Quaalude and alcohol…"
He pleaded guilty to a reduced charge of "unlawful sexual intercourse with a minor" and was sent to Chino State Prison, for 90 days of psychiatric evaluations. Pervert was released after 42 days, and awaited sentencing.
This demented deviant inexplicably expected to be placed on probation, and avoid prison. On the day before his sentencing, he somehow learned that he would be sent to prison, and deported when he was released. So he avoided the company of other convicted perverts, by fleeing to Europe, where he has lived a charmed life, for over 30 years.
You Are A Winner!
Just like illegal aliens, who are arrested after winning lotteries, this pretentious pedophile was lured with a prize. Only his prize was a lifetime achievement award at Zurich Film Festival!
Sandi Gibbons, of Los Angeles County district attorney's office said:
"It wasn't a big secret that he was going to be in Zurich. They had announced he was going on the Internet."
Degenerate's name is Roman Polanski. He is 76-years-old, and I hope he spends the remainder of his life consorting with other criminals in prison, for raping Samantha Geimer. In 2003, she said:
It was not consensual sex by any means. I said no, repeatedly, but he wouldn't take no for an answer. I was alone and I didn't know what to do. It was scary and, looking back, very creepy. Those may sound like kindergarten words, but that's the way it feels to me.
Polanski almost got away with it. In a 2003 interview with Larry King, Geimer said:
I told him (boyfriend) what happened and my sister overheard me because she happened to be outside my room, and then told my mom.
Her mother sued him, and they reached an out-of-court settlement for an undisclosed amount of money. Geimer has asked for Pervert Polanski to be released, but this may have been part of their settlement.
Looking For A Loophole
In 2008, New York Times reported that Polanski's attorney, Chad S. Hummel, wanted the charges dropped, based upon an interview in a 2008 documentary, Roman Polanski: Wanted and Desired
The title refers to Polanski being "wanted" in USA, but "desired" by clueless French fans, who do not believe that it is a big deal for a 44-year-old man to rape and traumatize a 13-year-old girl. Hummel asserts that Judge Laurence J. Rittenband, engaged in "repeated unethical and unlawful ex parte communications," by obtaining advice from Deputy District Attorney, David Wells.
Apparently, Rittenbrand wanted to release Polanski, until Wells showed him a photo of Polanski, then out on bail, with two young women in Munich, and said:
"Look here. He's flipping you off"
People ask me computer questions all the time. I do not understand why a Judge cannot be advised by an attorney, in the same office. Isn't it the same thing?
Hummel's argument is that California Code of Judicial Ethics (PDF) forbids two parties to discuss a case, where only one side is represented. Wells was not an attorney on this case, but he worked for State of California, which charged Polanski with raping the young girl. However, his statement cannot be corrobrated, because Judge Rittenbrand has died.
UPDATE:

David Wells Lied!

A few minutes after I published this article, New York Times reported that David Wells lied! Wells said:
"I've got to tell you, I lied. I tried to butter up this story to make me look better."
There goes Pervert Polanski's defense! Wells added:
"If it happened, it would have been unethical"
Which is just what Chad S. Hummel, Polanski's attorney complained about!
Yahoo News reported that Wells said he "embellished" story, because he was told that film would be shown in France, not United States. Wells retired two years ago.
Camera Shy?
An excellent article by Bill Wyman (not the Rolling Stone), Whitewashing Roman Polanski, suggests that Polanski did not return to court because he was spooked by courtroom cameras too.
Perverts for Polanski
SACD, a French organization, which "collects and distributes authors' royalties and fees for 45,000 authors in the field of the performing arts and audiovisual media," also believes that 44-year-old men should be allowed to rape 13-year-old girls. I am not sure if it extends this belief to all pedophiles, or just perverts like Roman Polanski, who contribute cash to their organization. I do not understand the laws or customs of France; perhaps they consider the act of raping and traumatizing young girls, a recreational activity, like bowling. In any event, I strongly advise any American family, who wants to visit their perverted provinces, to leave their young daughters at home!
If any members of this French society of sexual deviant lovers read this article, I hope they leave a comment, and explain this practice to me, and the thousands of Where Did My Brain Go? visitors, who will eventually read this article too.
Since there is no extradition policy between France and USA, maybe they just hate American laws, who knows?
Say It Loud! I Like Pedophiles and I Am Proud!
SACD, which should clarify its beliefs, by changing its motto from "A Society for and by authors" – to "Society for and by perverted authors and their friends" – has actually done something good. They have made it easy for people like me, fathers of daughters, who abhor pedophiles, to avoid supporting them. SACD circulated a petition, which has been signed by members of the performing arts community, who are rankled by Roman Polanski's arrest for raping a 13-year-old girl. They are not a bunch of misguided misogynists, because female names appear on this list of looney lewdies too.
I do not recognize all their names, but I will never watch another movie which lists these pedophile-lovers in the credits.
Finally, if you believe that 44-year-old men should be permitted to rape 13-year-old girls, you can add your name to this vile list, by sending an email to freeromanpolanski@sacd.fr with a subject of "Petition Roman Polanski" to show your support. Just don't tell me about it!
Erika Abrams
Fatih Akin
Stephane Allagnon
Woody Allen
Pedro Almodovar
Gianni Amelio
Wess Anderson
Roger Andrieux
Jean-Jacques Annaud
Alexandre Arcady
Fanny Ardant
Asia Argento
Darren Aronofsky
Olivier Assayas
Alexander Astruc
Gabriel Auer
Alexandre Babel
Jean-François Balmer
Luc Barnier
Christophe Barratier
Xavier Beauvois
Liria Begeja
Gilles Behat
Jean-Jacques Beineix
Marco Bellochio
Monica Bellucci
Véra Belmont
Djamel Bennecib
Alain Berliner
Pascal Berney
Giuseppe Bertolucci
Lucien Blacher
Catherine Boissière
Thierry Boscheron
Freddy Bossy
Patrick Bouchitey
Cédric Bouchoucha
Paul Boujenah
Katia Boutin
Jacques Bral
Patrick Braoudé
Guila Braoudé
Anne Burki
André Buytaers
Christian Carion
Henning Carlsen
Jean-Michel Carre
Lionel Cassan
Mathieu Celary
Teco Celio
Christophe Champclaux
Patrice Chéreau
Brigitte Chesneau
Catherine Chouchan
Elie Chouraqui
Souleymane Cissé
Jean-Pierre Clech
Henri Codenie
Robert Cohen
Alain Corneau
Jérôme Cornuau
Guy Courtecuisse
Miguel Courtois
Morgan Crestel
Dominique Crevecoeur
Alfonso Cuaron
Frédéric Damien
Sophie Danon
Luc Dardenne
Jean-Pierre Dardenne
Hervé de Luze
Benoît Delmas
Jonathan Demme
Dante Desarthe
Romain Desbiens
Thomas Desjonquères
Alexandre Desplat
Rosalinde Deville
Michel Deville
Guillaume D'Ham
Christelle Didier
Kathrin DiPaola
Ariel Dorfman
Georges Dybman
Jacques Fansten
Joël Farges
Gianluca Farinelli
Etienne Faure
Michel Ferry
Jean Teddy Filippe
Martine Fitoussi
Scott Foundas
Stephen Frears
Thierry Frémaux
Sam Gabarski
René Gainville
Matteo Garone
Tony Gatlif
Catherine Gaudin-Montalto
Costa Gavras
Jean-Marc Ghanassia
Terry Gilliam
Christian Gion
Stéphane Gizard
Christophe Goumand
Marc Guidoni
Dimitri Haulet
Buck Henry
David Heyman
Laurent Heynemann
Dominique Hollier
Isabelle Hontebeyrie
Frédéric Horiszny
Robert Hossein
Jean-Loup Hubert
Alejandro Gonzalez Inarritu
Gilles Jacob
Just Jaeckin
Anne Jeandet
Alain Jessua
Arthur Joffé
Pierre Jolivet
Kent Jones
Paola Jullian
Roger Kahane
Nelly Kaplan
Wong Kar Waï
Ladislas Kijno
Richard Klebinder
Harmony Korinne
Jan Kounen
Diane Kurys
Emir Kusturica
Jean Labadie
John Landis
Claude Lanzmann
David Lanzmann
André Larquié
Françoise Lassale
Carole Laure
Christine Laurent-Blixen
Emilien Lazaron
Vinciane Lecocq
Patrice Leconte
Claude Lelouch
Gérard Lenne
Pierre Lhomme
Renée Lhomme
Marceline Loridan-Ivens
David Lynch
Michael Mann
François Margolin
Jean-Pierre Marois
Tonie Marshall
Mario Martone
Christine Mathis
Nicolas Mauvernay
Christopher
Spencer McAndrew
Claire McAndrew
Allison Michel
Radu Mihaileanu
Jean-Louis Milesi
Claude Miller
Jean-Marc Modeste
Mario Monicelli
Jeanne Moreau
Christian Mvogo Mbarga
Juliette Nicolas-Donnard
Sandra Nicolier
Michel Ocelot
Eric Pape
Abner Pastoll
Alexander Payne
Richard Pena
Olivier Père
Suzana Peric
Jacques Perrin
Thomas Pibarot
Anne Pigeon Bormans
Michele Placido
Sabrina Poidevin
Agnès Catherine Poirier
Harry Prenger
Gilbert Primet
Philippe Radault
Tristan Rain
Jean-Paul Rappeneau
Raphael Rebibo
Jo Reymen
Laurence Reymond
Yasmina Reza
Christiane Rhein
Jacques Richard
Avital Ronell
Laurence Roulet
Marc Saffar
Gabriela Salazar Scherman
Walter Salles
Jean-Paul Salomé
Jean-Frédéric Samie
Marc Sandberg
Jerry Schatzberg
Julian Schnabel
Barbet Schroeder
Pierre Schumacher
Ettore Scola
Luis Gustavo Sconza-
Zaratin Soares
Martin Scorsese
Frank Segier
Guy Seligmann
Julien Seri
Pierre Silvant
Charlotte Silvera
Abderrahmane Sissako
Paolo Sorrentino
Roch Stephanik
Guillaume Stirn
Jean-Marc Surcin
Tilda Swinton
Jean-Charles Tacchella
Radovan Tadic
Danis Tanovic
Bertrand Tavernier
André Techiné
Cécile Telerman
Alain Terzian
Valentine Theret
Pascal Thomas
Giuseppe Tornatore
Serge Toubiana
Nadine Trintignant
Tom Tykwer
Alexandre Tylski
Jaques Vallotton
Betrand Van Effenterre
Jean-Pierre Vergne
Sarah Vermande
Gilles Walusinski
Wim Wenders
Anaïse Wittmann
Arnaud Xainte
Christian Zeender
2019 UPDATE:

Quentin Tarantino
Look, she was down with this. — Quentin Tarantino
Listen to Quentin Tarantino defend Polanski in 2003, on the Howard Stern Show.
Mr. Tarantino apologized to Samantha Geier for his remarks, in 2018.