Reading: Novels
I am often asked to recommend books, so have decided to list some of my favorite novels. I selected five outstanding authors, whose work will captivate you from from the first word, to the final sentence. All of these books are also notable for their attention to facts and details.
NOTE: Purchasing a book from this page helps support Where Did My Brain Go? — Thanks!
Lawrence Block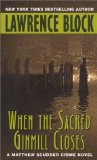 Lawrence Block, who shares my birthday, writes outstanding murder mysteries. My favorites are his 16 Matthew Scudder novels.
Scudder is an alcoholic. He quit the NYC Police Department and left his family, after accidentally killing a young girl on the job. Scudder moves to a rooming house on West 57th Street in Manhattan, and supports himself as an unlicensed private investigator.
Alcohol is a central theme. Scudder is often in bars. He wakes up in Roosevelt Hospital a few times,instead of his room.
Scudder stops drinking midway through the series, and spends more time in A.A. meetings than bars. He also picks up a wife, partner and violent best friend in later stories. All of the Scudder books are worth reading.
When the Sacred Ginmill Closes is my favorite novel of this series. Scudder recalls events that happened ten years earlier, when he solved three crimes at nearly the same time. Scudder manipulated the evidence of a fourth crime, to catch the third criminal. Lawrence Block said:
"It's a favorite of a lot of readers, and I frequently suggest it as a starting point for readers new to the series."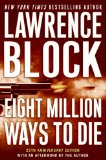 Eight Million Ways to Die was written four years before When the Sacred Ginmill Closes, but should be read later, as it takes place in "present" 1983.
After Matthew Scudder is released from the hospital, again, for drinking too much, he is hired by a prostitute, Kim, who wants to leave the business. Scudder is supposed to speak to her pimp, Chance, and obtain her freedom. Chance does not object, and the job seems completed, until Kim is found dead a few days later, and Chance is the prime suspect.
Scudder solves the murder and quits drinking! Hurray! This is an excellent book for anyone with an alcohol problem. Much of this book deals with Scudder's struggles with alcohol.
Eight Million Ways to Die won the Shamus Award as "Best P.I. Novel" of 1983. It is also a terrible movie, which inexplicably took place in Los Angeles, and had little to do with the book.
Ken Follett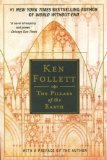 The Pillars of the Earth is my favorite novel. It is an unlikely choice, about building a cathedral in 12th century England. Ken Follett said:
"This is my most popular book. It still sells about 100,000 copies a year in paperback in the US, it was number one in the UK and Italy and it was on the German best seller list for six years. It's overwhelmingly the book that readers talk to me about when I meet them in bookshops. It's becoming a cult."
The Pillars of the Earth will be released as a a television miniseries in 2010.
Dennis Lehane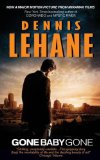 Gone, Baby, Gone is the fourth novel about detectives Patrick Kenzie and Angie Gennaro, who are hired to find a missing four-year-old girl. It is not helpful to read the earlier books.
Gone, Baby, Gone is full of murders, shootouts and even pedophilia. I wish I could write like Lehane, who describes complicated scenes clearly, and carries the reader with a new plot twist every few pages.
Basically, almost everyone lies about almost everything. I have not seen Gone Baby Gone (DVD) but Lehane said:
"I saw the movie and it's terrific, I wasn't gonna say anything if I didn't like it but it's really terrific."
Robert Ludlum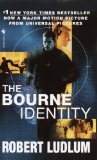 I have a soft spot for a hero whose life changed after he was hit in the head. In The Bourne Identity, Jason Bourne is found floating in the Mediterranean Sea, and taken to a physician, who is able to treat his bullet wounds, but not his amnesia, which was caused by a head injury. His only clues are a Swiss bank account number on a piece of microfilm embedded in his hip, and memories of killing people.
When he well is enough to travel, he learns his name at the bank, and discovers that certain people, notably Carlos The Jackal, the world's most famous assassin, want to kill him.
If you are interested in any of the three Bourne books, it is helpful to read The Bourne Identity first.
Jason Bourne is more "human" that other spy heroes. He often says, "sleep is a weapon," and forces himself to sleep for a few hours, even while he is being heavily pursued.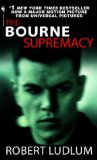 In Ludlum's next novel, Jason Bourne has retired, and is still being treated for his amnesia, when his wife is kidnapped. To add to his woes, an impostor is assassinating members of the Chinese Government, and of course Jason Bourne is the only person who can stop him.
This novel sets a record for plot twists as Ludlum tries to surpass The Bourne Identity. He nearly succeeds.
The Bourne Ultimatum is the third, and final, Jason Bourne novel. While all three Bourne books are worth reading, this is the weakest one.
Carlos The Jackal forces Bourne to come out of retirement again, after he discovers Bourne's secret identity, and threatens his wife and children.
All three books are available as audio books on The Robert Ludlum Value Collection: The Bourne Identity, The Bourne Supremacy, The Bourne Ultimatum if you would rather listen to them.

Robert Ludlum also published two very funny novels, featuring General Mackenzie Hawkins. In The Road To Gandolfo "The Hawk" is forced to leave the Army after accidentally insults the Chinese, and decides to embark on a life of crime. His plan is to kidnap the Pope, and hold him for a $400 million ransom, which Hawkins figures is $1 for every Catholic in the world.
The kidnapping scheme is quite complicated, and believable.
Ludlum also introduces an Army lawyer, Sam Deveraux, who becomes Hawk's unwitting, then unwilling, accomplice.
I enjoyed The Road To Gandolfo very much, and you will too! But Ludlum was not sure how the public would react to this novel, and originally released it under a pseudonym, "Michael Shepherd."

The Hawk and Sam Deveraux return in The Road To Omaha. After finding a forgotten treaty, Hawkins becomes an American Indian Chief of a tribe he believes is entitled to a large portion of Nebraska. Sam Deveraux, who has retired from Army, represents the Indians in court.
It is helpful to read The Road To Gandolfo before The Road to Omaha. Ludlum published this novel under his own name.
David Morrell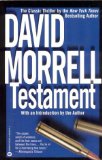 Testament is the most exciting novel I ever read. Pure suspense. I once gave someone a copy, who said he missed an important appointment because he could not stop reading it.
An author interviews the leader of an American extremist group, who expected a complimentary article. However, author changed his mind, and wrote a critical review. After he exposes the organization, they seek revenge.
Without revealing more of the plot, I will just say that most of the book involves a spectacular chase, and leave you with the first sentence:
"It was the last morning the four of them would ever be together: the man and his wife, his daughter and his son."