Short Summer Bicycle Rides in Tampa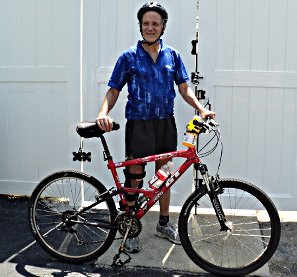 I was riding my bicycle twice a week during Spring.
My routine was broken after I got an interesting two-month-job, fixing a large Web site that broke after losing PHP's register globals from an upgrade.
I wanted to ride on Sundays, but I always seem to be driving somewhere on Sunday. Tampa is actually Tampa-St. Pete-Clearwater. Many attractions and destinations are an hour away.
My current job requires a daily commute. I started riding every other day, before or after work.
That routine was broken by the weather. It is too hot in Tampa for extended bicycle riding. Yesterday's UV index in sunny Tampa, was 11. Tampa was tied for the second highest UV index among American cities. Honolulu was leader with 13.
I do not use sunscreen, because I am tan from over a year in Tampa. Nevertheless, I get darker after an hour ride, on a day with a high ultraviolet index.
The UV index makes everything bright. The heat index saps your strength. I particularly notice the heat index, if I have to sit in a car for over 5 minutes. I have come home exhausted a few times, from sitting in a hot car.
At 6 PM, the heat index was 107. Tampa has a Hazardous Weather Outlook, which includes "Excessive Heat Impact."
National Weather Service does not recommend long bicycle rides:
Debilitating Heat. If outside for an hour or more, heat stroke is possible to un-acclimated residents or residents whose water intake is low. Heat exhaustion is likely for any resident out for any length of time with low water intake prior to being outdoors. Outdoor enthusiasts are urged to reserve strenuous activity for early morning or evening; other residents should remain in air conditioned locations.
It has been too hot for me to ride, for a few days.
Summer Bicycle Riding in Tampa
My Summer rides start near MacDill Air Force Base. I ride on Sheridan Avenue, wide and deserted, to busy Gandy Boulevard. A few blocks on Gandy's sidewalk brings me to Bayshore Boulevard. The world's longest continuous sidewalk is my favorite place to ride a bicycle.
There is a warm breeze from Hillsborough Bay after I reach Bayshore Boulevard. This breeze it is not cool. The only way to cool off is to stop for a minute.
Heat is transferred into my body, because the temperature in the sun is higher than my body temperature. My sweat evaporates when I stop, and cools me until it dries again.
I carry two 20 ounce bottles of fluid. A bottle of frozen water, stays cool for a half hour. I drink a defrosted bottle of a sports drink at the beginning of my ride.
Summer heat reduces my appetite. I still get hungry while I ride, but half of a Clif Bar satisifies me during the Summer. I was eating two Clif Bars on Spring rides to Davis Islands.
My Summer Bicycle Route
My first stop is the bench on Harbor View Avenue. I lean my bicycle against the bench. I stretch my quadriceps and hamstrings for 15 minutes. They were both really tight when I started.
Tampa's extreme outdoor heat is similar to Bikram Yoga. But while I stretch on Bayshore Boulevard, I can watch standing egrets, diving pelicans, and jumping mullets.
I ride another mile after stretching. I turn around at Bay to Bay Boulevard, the middle of Bayshore Boulevard.
I am looking forward to Autumn in Tampa, and longer bicycle rides.