Why Is Bear Grylls Amazing?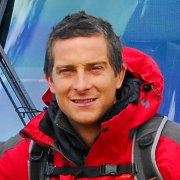 Bear Grylls participated in "Wanderland Walk" to raise money for Help for Heroes, and Headway, on Saturday. (May 8, 2010)
Help For Heroes
Help for Heroes was started in 2007, to raise money for the construction of a swimming pool, at Defence Medical Rehabilitation Centre Headley Court for injured members of the British Armed Forces.
This 85 acre facility was purchased after World War II using donations collected by Royal Air Force Pilots and Crews Fund. It was the Headquarters for Canadian Forces during World War II.
Help for Heroes raised £8 million for the swimming pool at Headley Court, and will open The Help for Heroes Rehabilitation Complex this year. (2010)
Please donate to Help for Heroes, which is not connected to any political organization.
Headway
Headway, "the charity that works to improve life after brain injury," wants:
To promote understanding of all aspects of brain injury and to provide information, support and services to people with a brain injury, their families and carers.
Since traumatic brain injuries are the signature injuries of current wars, both charities support the same people.
Please donate to Headway. It uses contributions to provide vital services to brain injury survivors and their families.
Where Was Bear Grylls?
Bear Grylls, as I previously noted, has been filming the fifth season of Man vs. Wild, in Russia, Australia, and an unnamed desert island.
Bear Grylls is amazing because he participated in this event, with his wife, Shara, and oldest sons, Jesse, 8, and Marmaduke, 7, on his "day off" between Russia and Australia.
Bear Grylls had a personal reason for appearing at this event:
When I had an injury when I was in the army I ended up in Headley Court which is the military rehabilitation place. Now they are seeing 100 soldiers a month passing through there who have lost limbs or arms. They do extraordinary work and I try to do as much as I can for them through various expeditions and supporting local events.
That's why Bear Grylls is amazing!