Woodland Arts Fair | Lexington, KY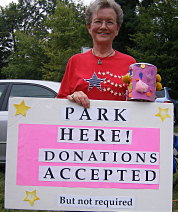 I attended Lexington, Kentucky's, Woodland Arts Fair, today.
Woodland Arts Fair is the outdoor event of the year in my neighborhood. My friend was forced to park several blocks away, which is a very big deal in Lexington. I must point out, that the entire security force for Woodland Arts Fair, was one policeman, and he was eating a hot dog when I saw him. Civilization may have fallen elsewhere, but not around here.
Woodland Arts Fair was more diversified this year, and photographers outnumbered painters. However, one photographer stood out from the rest of the artisans, simply because his booth had no sign.
When I questioned him later, he said that he didn't need a sign.
What My Photos Should Look Like
James Archambeault is as charismatic as he is talented. Mr. Archambeault photographs horses, and Lexington, which calls itself as The Horse Capitol of the World, has plenty of subjects for him.
My appreciation of Mr. Archambeault's talent skyrocketed when I looked at a second photo. It was just a few horses in a field. Yet, when viewed through his camera, it was transformed into a truly captivating image, which demanded your undivided attention.
Mr. Archambeault saw the horses while driving, pulled over, and photographed it from the side of the road. Sadly, my own photos of him, which were taken under ideal conditions, are awful.
How Many Verses Are In 'Dixie'?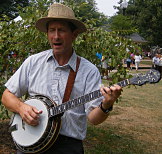 I don't know how many verses are in 'Dixie' because I lost track, after five or six verses by Jim Olive, the Woodland Art Fair's troubadour.
Mr. Olive is a retired forester, who moved to Lexington from Baton Rouge. He claimed to have 34 years of experience playing the banjo, and it showed. I have always wondered how musicians can seem enthusiastic, playing the same songs a zillion times, but Mr. Olive appeared to be the happiest fellow at the fair. His serendipitous performances were a small, yet significant part of this year's Woodland Arts Fair.
We all need a troubadour sometime.