Writing About Life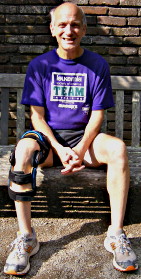 I have been unemployed recently, and have turned from writing computer programs, to writing about my life.
Writing is a new page on Where Did My Brain Go?, where you can sample my efforts.
Sixth Avenue Story is a short poem about Amy. I met Amy in the Winter of 1980, while I was working as a waiter on East 44th Street, in Midtown Manhattan, and living at Hotel Seventeen, a mile away, on East 17th Street.
Although the Hotel 17 Web site describes it as a "chic budget hotel," in 1980, it was just cheap. Woody Allen, who was a legend at my high school, filmed part of Manhattan Murder Mystery there in 1993.
My weekdays at Hotel Seventeen, began at 5 A.M., when I walked down the hall, to take a shower, to get ready for work at 6. It was quiet, except when I passed one room, where there was always a poker game in progress. I was startled when the door to that room was open one day, and I discovered that the "game" was one fellow, playing four hands, and speaking in four different voices to imaginary friends. I did not care for evenings much either, when I had to push past a group of aggressive, drug-dealing transvestites, to enter the lobby.
Weekday afternoons were sublime. I left work at 2 P.M., with a passionate waitress from The Bronx. We had three hours of free time, before she picked up her son from day care. We watched television after our adult activities. She maintained her magnificent figure, doing situps during commercials.
Unfortunately, her schedule changed/ Our relationship dissolved after a few weekends with her children at her apartment, in a scary neighborhood. She lived a few blocks from the Happy Land Social Club.
My Sixth Avenue Story
I met Amy at work, when I heard my boss screaming at her, because it was the second or third time that week, that she had forgotten her purse and could not pay for lunch. I ended his tirade by paying her outstanding bill. Amy told me to visit her that evening to be repaid, at the magnificent loft she shared with her sister, in Manhattan's Flower District, on Sixth Avenue, which is now known as "Avenue of the Americas."
I became aroused when her sister answered the door topless, transferred some of that energy to Amy, who was very pleased, and moved in the following day.
My poem, Sixth Avenue Story summarizes our relationship, in eight lines.
I hope you like it,