Acoustic Eidolon In Berea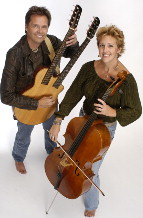 Acoustic Eidolon were my favorite performers over the course of the hundred or so WoodSongs performances I attended while volunteering there.
The combination of Joe Scott on the 14-string guitjo, which he invented, and his wife Hannah Scott on cello is mesmerizing at best, and always enchanting. Listen to them perform on WoodSongs to understand.
Residents of the Lexington Kentucky area have a rare opportunity to see Acoustic Eidolon perform this weekend, in a benefit concert for Church of Christ, Union in Berea.
The concert will be held on Sunday, April 19th at 6:30 P.M. in the Sanctuary. See the official announcement for more info.