Bear Grylls Reinvents Himself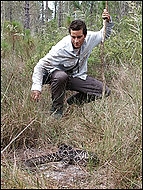 Bear Grylls has reinvented himself. Man vs. Wild is now Bear's Mission Everest and it has the potential to be a real treat.
Bear Grylls has risen from disgrace, and Man vs. Wild is now the number one cable show in America. I am looking forward to Bear's Mission Everest more than any television show in years.
Keep Your Facts To Yourself
I stopped watching Bear Grylls reruns after I decided that I don't want to know the truth. I think enjoyed the first show under the new kinder, gentler, honest, version, because I had not seen an episode for awhile. However, the novelty of the new format faded fast.
I was originally astounded when I thought I saw Bear Grylls, catch a large rabbit, with a trap constructed which he constructed from his shoelaces and twigs in a few minutes.
I was incredibly impressed, when Bear Grylls waded into an Alaskan river. He beat the water with a stick, to drive some of its abundant salmon into shallower water. Then he speared a beauty said, "Sushi!" and bit right into it. He even ate the skin. What a man!
Sadly, I turned it off for good, when he said "a member of my crew" caught it. (with a state-of-the-art fishing rod, and bait?)
Oh well. Nothing lasts forever.
Outstanding Content
Bear Grylls has introduced to me to many plants, animals, and insects. He routinely eats insects. I have even watched him eat a live frog.
I am over fifty years old, and aside from chocolate covered ants, never considered eating an insect. Did you? Grylls also presents unique projects in each episode. His shelters, whether he uses them, or not, are phenomenal.
I have seen Bear Grylls explain how to climb down a 200 foot waterfall. Grylls made it look simple, when I did not think it was possible without a rope.
At least he had a crew!
The Hype
"I think the irony is that people are going to enjoy seeing more behind the scenes. It's going to make the whole program better."
What Happened to Bear Grylls in England?
Bear's Mission Everest was not listed in the Channel 4 TV listings today.
Additionally, the Born Survivor homepage has not been updated since Channel 4 originally investigated Grylls back in July.
Will Channel 4 ever take him back?
| | | | |
| --- | --- | --- | --- |
| Fri | Nov | 9 | 10:00 PM |
| Sat | Nov | 10 | 2:00 PM |
| Sun | Nov | 11 | 7:00 PM |