Giant Break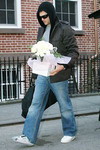 TMZ has posted a video which shows Patriots quarterback Tom Brady, limping, and wearing a cast on his right foot.
Before you sell your family jewels, to bet on the underdog New York Giants, remember Spygate, and who coaches them — it might be a ruse. Brady said:
"There will be treatment this week. In games like this, you get a little nicked up. It's nothing serious."
We shall see. Patriots have two backup quarterbacks, who threw eight passes this year. Matt Cassel threw seven of them. Rookie Matt Gutierrez completed his only pass. Can you imagine how excited Cassel and Guiterrez are, if Brady is really hurt?
Victory would be tainted, if Giants win, and Brady does not play, or plays poorly. Big deal! Life is not fair.
I wish Tom Brady a complete recovery. I hope his leg is completely healed, the day after the Super Bowl.