My Kindle Book Is Free For The Next Five Days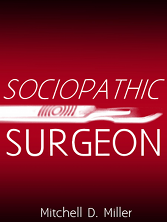 Surgeons must be smart, not sane. Your next surgeon might be a sociopath. She might be like Sara, the main character of Sociopathic Surgeon. Sara has a dissocial personality order. From ICD-10.
Personality disorder characterized by disregard for social obligations, and callous unconcern for the feelings of others. There is gross disparity between behaviour and the prevailing social norms. Behaviour is not readily modifiable by adverse experience, including punishment.
How To Abuse A Medical License
Sara trades prescriptions with police, to fix her speeding tickets. Sara enjoys ridiculing physicians who did not graduate from an American medical school.
Sara really dislikes nurses. She wants to kidnap a nurse, so she can dissect a living person.
But Sara can be compassionate. She helps an woman lie, so her abusive husband will be arrested. Sara also saves lives. She loves practicing medicine.
Sociopathic Adventures
My story is set in the early 1980's. I lived in all the locations and described them accurately. All the medical information, including the certification process, was correct at that time.
We are introduced to Sara in a TriBeCa bar, where she meets her husband. He is a bank clerk, who pretends to be busy on his job, waiting for an early retirement. After a few drinks, the couple decide that they are the smartest people in the world. They get married and produce two daughters.
The family moves out of their small Manhattan apartment. The sociopathic parents raise their precocious daughters in several cities of a surreal world. Their daughters are never punished because they have no rules.
Sara causes and fixes problems wherever they live. You never know what she will do.
Sara expects to be right. Nevertheless, she is human. She makes one mistake.
Why Is This Great Novel Free?
I need reviews. Sociopathic Surgeon has one four star Amazon review. More reviews and sales will encourage me to finish the sequel!
I cannot make any promises that you will enjoy my novel as much as I do. I have it read it several times.
You can read it free for the next five days.
How To Get A Free Copy of Sociopathic Surgeon
My eBook, Sociopathic Surgeon will be free on Amazon from February 26 through March 2, 2013. Download Sociopathic Surgeon from The Kindle Store now.
If you do not have a Kindle, you can read Sociopathic Surgeon with a Kindle app on most tablets, phones, computers. Amazon has more info here.
Why Should You Read My Book?
It is different. It is exciting. It is free. But hardly anyone knows about it. Now that you know: read it, and please leave a brief review.
Thank you :)