Our First Sunday Trip: Largo, Florida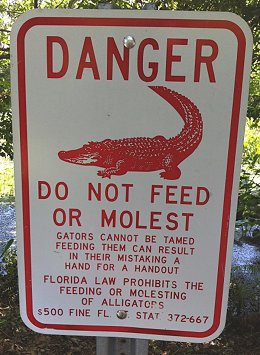 Karen, Susie and I visited an outstanding free attraction near Tampa, Florida today.
Susie is Karen's 17-year-old daughter. We moved to South Tampa from Lexington, Kentucky three weeks ago. We rented an apartment near my daughter Maxine, who encouraged us to move here.
Lexington was nice. Tampa is awesome.
We would like visit new places every Sunday, with nice weather. This is Tampa's rainy season. Ten inches of rain were measured in July.
The Florida Botanical Gardens in Largo
I used the Google Map app on my iPhone for directions, with "no highways" as an option.
My two hours of driving was pleasant. Tampa highways, especially 275, can be terrifying. However, the only traffic we encountered was near Clearwater Beach. There were also many wonderful sights while driving.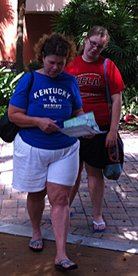 We arrived about noon, and counted two cars in the massive parking lot. I speculated that one car belonged to an employee. Karen said that both cars belonged to employees. Actually, there were no visible employees.
The grounds were immaculate, maps were available, but an employee was needed to open the building which housed the bathrooms. Karen refused to create an outdoor bathroom behind a tropical plant.
Bring insect repellent. There is lots of walking, and numerous benches for resting. We found one water fountain.
Butterfly Garden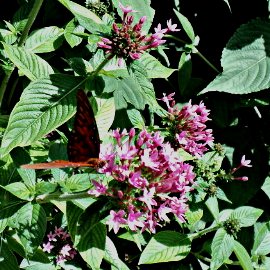 We enjoyed the Butterfly Garden. I expected a screened cage, like an aviary. However, these butterflies are free. We observed numerous butterflies, because plants in this area attract butterflies.
This area was dense. It was dark, a few feet away from today's bright sunshine, on the path.
Summary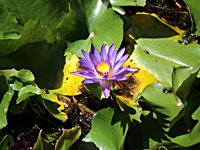 Dress to walk long distances, in a tropical climate. Bring insect repellent. Do not expect to be able to use a public bathroom.
We covered less than half of the exhibits in two hours. However, we watched the butterflies for a long time :)
Please visit Pinellas County Florida Botanical Gardens on the Web for more information.