Packers Offer Favre $20 Million To Stay Home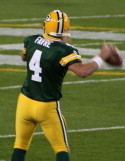 Milwaukee television station, WTMJ reported that Green Bay Packers have offered Brett Favre $20 million over ten years if he does not report to training camp, and stays retired.
Packers President Mike Murphy, hoped Favre would maintain a "long–term relationship with the Packers."
Green Bay Press–Gazette and ESPN published similar reports.
ESPN also reported that Favre has filed for reinstatement, but NFL spokesman Greg Aiello said:
"The commissioner is taking no action today. He wants to give both the Packers and Brett an appropriate amount of time to make decisions, including decisions impacting the team's roster and salary cap. When Brett is reinstated by the commissioner, we will announce it."
The $20 million figure sounds even sillier, when you realize that Favre will earn $12 million this year, once he is reinstated.
Milwaukee Journal–Sentinel reported that Packers are negotiating with Vikings and Bears. Darrell Bevell, Favre's former Quarterback coach, is offensive coordinator of Vikings, who are reportedly Favre's first choice.
I would love to see Favre go to Vikings, who are also in NFC North, and will play Packers twice.
Favre, who has played in 275 consecutive games and has a career QB rating of 95.5 has to be looking forward to playing Packers.
After losing last year's NFC Championship game to Giants, Favre said:
"I was disappointed that the last pass I threw was intercepted"
Favre doesn't have to be disappointed anymore.