Voter Apathy Defeated Florida Medical Marijuana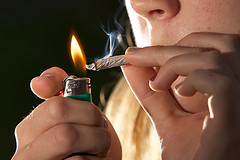 I woke up on Election Day with a smile and a purpose.
I wore an Autumn bicycle shirt, and rode my bicycle to vote.
My glee diminished, turning into a nearly empty parking lot.
I usually carry a small bottle of hand sanitizer, to protect myself from society's illnesses. However, I skipped breakfast and forgot my portable germicide, because I was eager to vote.
I instinctively reached for my pocket antiseptic when I entered the building. I was engulfed by a panic attack, because it was not in my zippered rear pocket.
I evaluated my options.
Ride 2 miles home, for hand sanitizer. Eat breakfast, return in a couple of hours.
Ride home, eat breakfast, take a nap. Naps are great after panic attacks. I had a job to finish. I could fill the day without voting.
Stay and vote.
The building was filled with my South Tampa neighbors protecting our democracy. A voter's smile dispersed my panic, and led me to the reception table.
I checked for a communal bottle of hand sanitizer, before handing my Real ID to an elderly woman. I held my breath and a smile, until I realized she was not going to sanitize her hands. I spoke to reduce tension.
"Are you busy today?"
"It's a normal turnout," she said.
I ambled to an empty voting booth and picked up a shared pen to mark my choices. I was queasy from holding my breath, touching 2 shared pens, skipping breakfast. The ballot improved my disposition.
Adrian Wyllie, Bill Wohlsifer and Amendment 2 needed my vote. I was obligated to help Floridians improve their lives, by voting for Libertarian candidates and medical marijuana.
Three cars were in the parking lot, after voting. The security guard told me it was a "normal turnout."
Where's the Votes?
There are 765,993 registered voters in Hillsborough County.
Democrat: 306,706
Republican: 245,303
Other: 217,334
391,201 Hillsborough County residents did not vote.
Amendments were on the second page of my ballot. This did not hinder voters, because Amendment 2 received 182,926 more votes than Scott and Crist.
YesOn2 received 502,394 more votes than Governor Scott. It was not enough.
Charlie Crist was hurt by President Obama and apathy. 65,838 votes separated Scott and Crist.
Floridians do not have to travel to vote on Election Day. We can vote by mail, and we can vote early.
Everyone can vote. Everyone should vote.
Don't blame Sheldon Adelson, Pam Bondi or Rick Scott for expressing their views.
#YesOn2 died because too many Florida voters did not vote.