Waiting for Bear Grylls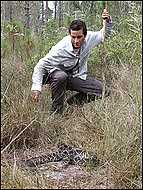 Only a few days, left until Bear Grylls, and Man vs. Wild, return for their third season, on Discovery.
I am looking forward to seeing Bear Grylls in Namibia, on Friday (May 9th) at 9 P.M. (EDT). Bear Grylls will begin the first episode of the new season, with a lesson on "how to survive some of the world's biggest rapids" — which sounds great!
Two Minutes of Pleasure
Instead of watching reruns individually, The Unofficial Bear Grylls Support Group has condensed the (second) past season of Man vs. Wild, into 55 seconds.
Fill up another minute with Discovery's one minute commercial, which shows highlights of the upcoming season.
Want More?
Visit Discovery, for the complete list of new episodes.
Then visit Bear's Blog to see a great photo taken after he was stung by bees in Mexico, and before he drank a "cocktail of snake innards and pee", which he described as "truly terrible."
Who knew?