How to Meet Bear Grylls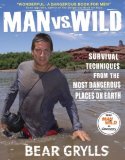 Man vs. Wild: Survival Techniques from the Most Dangerous Places On Earth is the latest book by Bear Grylls. It goes on sale today.
Now I can stop watching Bear Grylls reruns, and practice his techniques, in the privacy of my home. What could be better?
Can You Ever Learn Too Much?
Among other things, readers will learn how to:
Suck fluid from fish eyeballs
Use their urine to stay cool
Skin a snake and eat it
Perhaps we will also learn:
Why we should not eat the entire eyeball
If this is a custom somewhere
How to catch the snake
Where Is Bear Grylls?
Bear Grylls will be autographing books, and probably answering ridiculous questions, at least twice:
When
Where
5/1/08
1:00
PM
Borders Books
100 Broadway
New York, NY
212–964–1988
5/6/08
7:30
PM
Barnes & Noble
23630 Valencia Blvd.
Santa Clarita, CA
661–254–6604
Still Searching for Bear Grylls
I am obviously a big fan of Bear Grylls, and I would like to meet him. Therefore, I was very surprised that this information, was scarce, and difficult to obtain.
Is it possible that Bear Grylls is just visiting two bookstores — one on each side of America?