What Happened to Bear Grylls Now?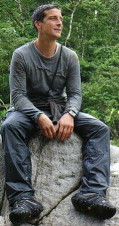 Discovery announced that the semi—triumphant return of Man vs. Wild to their network tomorrow, has been canceled or rescheduled.
Instead of a reminder to watch tomorrow's show, I was informed that:
We're sorry, the program you selected is no longer airing at this time. Please visit our schedule to view other air times.
Unfortunately, that schedule still has Man vs. Wild listed for tomorrow.
What Happened to Bear Grylls now?