Cocoa Beach Will Remove Red Light Cameras for Tourists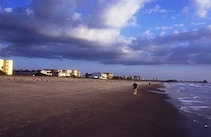 I speculated that Florida would remove red light cameras for tourists. Cocoa Beach agreed with me.
On February 6, 2014, The Cocoa Beach City Commission voted 3-2 to remove red light cameras.
Police Chief Arthur "Bud" Ayres provided statistics, showing that 31 out of 46 collisions at intersections with red light cameras were "rear-end" collisions.
Additionally, an investigation by WKMG Channel 6 discovered shorter yellow lights at intersections with red light cameras. These findings annoyed Mayor Dave Nettestrom. Nettestrom said:
I don't want to see that. And again, for my point of view, I'm questioning if the program is worth it. It does cause a lot of controversy. I wouldn't mind putting it aside and focusing on more fun things that are less controversial.
the city really gets really little benefit from it versus all the hassles we put up with
Who Wants Red Light Cameras in Cocoa Beach?
Commission Ben Malik and Commissioner Adrianne Dillon voted to keep the red light cameras in Cocoa Beach. I was unable to learn if they received campaign contributions from American Traffic Solutions, the company that sold the cameras to Cocoa Beach.
Sadly, Commissioner Adrianne Dillon ignored logic. Dillon sounds like she works for ATS. Dillon said:
A lot of us have got educated, and we are being a lot more careful. It makes people behave.
Juan del Cerro represented American Traffic Solutions at this Council meeting. del Cerro "noted that ATS would work with the local tourism board to educate individuals."
How do you educate someone to prepare for a rear-end collision?
Adrianne Dillon is up for re-election this year. She won her last election by 423 votes. I hope that Cocoa Beach voters remember Dillon's vote for red light cameras in November, and replace her on the Council.
When Will Cocoa Beach Remove Red Light Cameras?
Cocoa Beach's contract with ATS expires next year. The council will meet tomorrow, March 20, 2014, to discuss terminating their contract early.
I expect Cocoa Beach to remove cameras before the 50th annual Easter Surf Festival. The Easter Surf Festival attracted 100,000 tourists last year. However, I found warnings about Cocoa Beach's red light cameras on TripAdvisor.
Cocoa Beach wants 100,000 tourists to attend the Easter Surf Festival this year. They do not want tourists to find red light camera tickets when they get home.
It is unfortunate that money and tourism are behind Cocoa Beach's decision to remove red light cameras. Cities should remove red light cameras for the safety of their residents.