Will Florida Remove Red Light Cameras to Protect Tourism?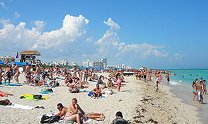 My previous article explained why Florida's red light cameras are a bad idea. If Florida wanted to save lives, it would have extended the length of yellow lights. Sadly, Florida made yellow lights change faster, to make more money.
On October 13, 2013, Florida State Representative Frank Artiles introduced HB 4009 – Traffic Infraction Detectors. Its purpose is:
Repeals provisions relating to installation & use of traffic infraction detectors to enforce specified provisions when driver fails to stop at traffic signal.
Representative Artiles's bill is related to SB 144: Traffic Infraction Detectors, which was introduced by State Senator Jeff Brandes on September 4, 2013.
On September 25, 2013, Senator Brandes's bill was referred to three committees:
The Subcommittee on Transportation, Tourism, and Economic Development is most important.
Tourism is more important than Red Light Cameras
Florida is the top travel destination in the world. Florida drivers paid over $100 million in fines from red light cameras in 2012. Florida received $53 million in revenue, after paying the red light camera manufacturers.
However, visitors spent $33.2 billion in Florida, between January and May 2013. The visitors who went home with $158 tickets from a red light camera, might not want to return to Florida.
Representative Walter Bryan "Mike" Hill believes that fines might dissuade tourists from returning to Pensacola Beach, in his district. Mike Hill said that when tourists get home:
they have tickets waiting for them that are over $100. That would leave any visitor a sour taste in their mouth.
Senator Brandes and Representative Artiles introduced legislation to make our roads safer. Red light cameras scare me, especially the ones that force drivers to come to a complete stop on a right turn.
Nevertheless, I believe that Florida will remove red light cameras, so it remains the top vacation spot in the world.