Meet Me at Libertarian Party of Florida Convention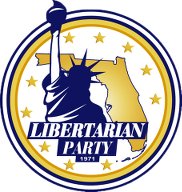 I have been a registered Democrat for 42 years.
I used to admire Democrats. Daniel Patrick Moynihan was my favorite Democrat. Sadly, Moynihan left the Senate fourteen years ago.
I have continued to vote for Democrats out of habit, but the division between Democrats and Republicans has blurred. Both parties support futile wars, foreign aid to countries who hate us and an aversion to balancing the Federal budget.
It is time for a change.
The Libertarian Party
Libertarian Party is the third largest American political party. The Libertarian Party of Florida (LPF) is the third largest political party in Florida. I am intrigued by their candidates, especially Bill Wohlsifer, Florida's first Libertarian Candidate for Attorney General.
I am looking forward to learning more about the Libertarian Party tomorrow.
LPF 2014
I will be at LPF 2014, the Libertarian Party of Florida's 2014 Convention, in Tampa tomorrow.
You can meet me at the United for Care booth from about 8-10 AM.
Please join me to learn more about the Libertarian Party and to sign a petition to show your support for medical marijuana in Florida.
Remember #YesOn2 not No On 2. Floridians deserve the highest standard of living. Floridians deserve medical marijuana.