Bear Grylls and The Most Interesting Academy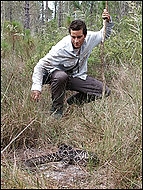 I was searching for news about Bear Grylls, when I came across Dos Equis' The Most Interesting Academy Encourages Consumers to Live a More Interesting Life, which began:
"With the Help of Distinguished Instructors Like Survival Expert Bear Grylls, The Most Interesting Academy Delivers Sage Advice on How to Live a More Interesting Life Through a Multi-Tiered National Program"
That was enough for me, so I headed over to mostinterestingacademy.com to learn more.
The Most Interesting Academy Is Not Interesting
I like the Web better without Flash, and often leave Flash–heavy sites without ever seeing them.
But when I was greeted with an annoying Flash widget, asking me for my date of birth, to prove that I was old enough to satisfy their lawyers, I gritted my teeth, and followed the program, hoping for something interesting when I was through.
The Most Interesting Academy offers courses described as:
"Here at the Academy, we do not waste time on your garden variety courseload, such as Mathematics, Literature or Beekeeping. Our courses focus on the fascinating, the arcane, the eclectic, such as Circumnavigating the Globe, Command of the Animal Kingdom, and Extreme Beekeeping (coming Fall 2010)."
Although I have never seen a Web page, advertised more than a year in advance, I decided to register, to learn what it was all about.
I clenched my jaw, when I presented with another Flash entry form, which allowed me to display my own photo, if I was over 25 years old. Their computer ought to have known that, but I filled everything out, clicked "Submit" and waited for something interesting to happen.
Unfortunately, their form did not work. It transmitted my data and stopped. No error messages, it just did not work. I tried again, with same result. I might have tried a third time, with a different Web browser, except that I paused to read their Terms and was horrified to find:
"To the fullest extent permitted by law, applicants/prospective applicants/web site users agree that: (a) any and all disputes, claims, and causes of action arising out of or connected with the Dos Equis® Most Interesting Apprenticeship Search shall be resolved individually, without resort to any form of class action, and exclusively by an action in state or federal court located in the State of New York and, any right to a trial by jury, and a trial by jury, is waived, and (b) any and all claims, judgments and awards shall be limited to actual out-of-pocket costs incurred, including costs associated with participating in the Dos Equis® Most Interesting Apprenticeship Search but in no event attorneys' fees; and (c) under no circumstances will applicants/prospective applicants/web site users be permitted to obtain awards for and hereby waive all rights to claim punitive, incidental and consequential damages and any other damages, other than for actual out-of-pocket expenses, and any and all rights to have damages multiplied or otherwise increased."
Why would anyone agree to that?
What Happened To Bear Grylls?
OK, I was not joining, but I still wanted to know how Bear Grylls was involved.
This is where it gets interesting. I received no results for these two Google searches:
There was no reference to Bear Grylls on either site!
A Technorati search of English blogs for: "The Most Interesting Academy" + "Bear Grylls" yielded no results either!
My final search, for Most Interesting Academy on Bear's Blog using Google: "most interesting academy" site:beargryls.blogspot.com, produced no results either.
My last stop was BugMeNot, but they did not have any passwords for dosequis.com or mostinterestingacademy.com available.
Duplicity 101
Are there any students at Most Interesting Academy and does Bear Grylls really teach any courses there?