Looking Ahead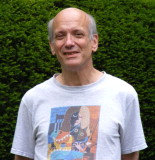 I stopped writing for Where Did My Brain Go? recently, because I wanted to take the SCWCD (Sun Certified Web Component Developer for the Java Platform, Enterprise Edition 5) exam on Jayne's Birthday, July 30th. But I just postponed it for a month or two, so I can have other interests.
There is more to life than Java programming.
Meanwhile, I have collected a gigabyte of stuff to write about. Plus, I have to get warmed up for New York Giants, right? So get ready, I will be back tomorrow, with my gigabytes.
About Photo
That's me, photographed by Larry Steur in May 2008. I was just unable to connect to Larry's Photo Gallery, but I will provide a link in the future.
My shirt is a copy of a painting of virtuoso guitarist Ed Gerhard performing in Japan. Unfortunately, I was just unable to connect to Ed's site, and I will investigate that too.
Oh well, they should have hired me to to take care of them.
On This Date
My Dad would have been 91 today, and I miss him.
Also on this date, I once extended my own life, when I stopped drinking. I would like to write about that in the future. But not tomorrow, because I don't want to remember those years now.
I will continue writing for Where Did My Brain Go? soon.