Quick Mail 1.3.3 for WordPress 4.6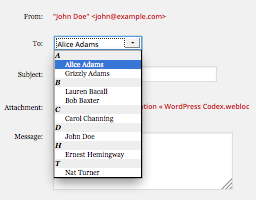 Quick Mail is a WordPress plugin that sends an email with an attachment from the WordPress dashboard. Quick Mail includes options to send email to members of your site, or anyone.
Download Quick Mail now, or read on for more information.
Quick Mail was published almost two years ago. I update Quick Mail when a new version of WordPress is released.
Quick Mail 1.3.3
If you entered a typo or an invalid email address, Quick Mail saved the address to recent addresses before the address was validated.
Earlier versions of Quick Mail detected if an error message was displayed before sending mail. However, Quick Mail 1.2.2 added "dismissible messages," so messages are not always visible.
Quick Mail 1.3.3 uses a hidden form field to save the result of email validation.
It is still possible to send an undeliverable email, because Quick Mail does not validate user email addresses from WordPress profiles.
I was pleased that no errors were reported on the multiple file uploads that I added in Quick Mail 1.3.2.
Future Plans
I would like to add a feature to send an email to all users on a site.
If you have an idea for a Quick Mail feature, please describe it on the support forum to send it to me.
Get Quick Mail
Download Quick Mail 1.3.3 from the WordPress Plugin Repository. Fork Quick Mail on GitHub to add new features.
Quick Mail 1.3.3 was tested with WordPress 4.6.
I hope Quick Mail increases your productivity. Please leave a review to help others find it.
Thanks to everyone who has been translating Quick Mail. Please join the translation project so more people can use Quick Mail in their language.
Check out my previous articles on Quick Mail for more information. Download Quick Mail to try it now.